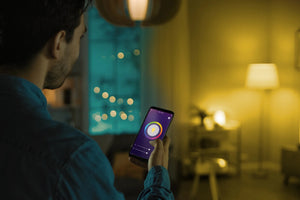 Profiteer van volumekorting
Smart lighting
With Alecto's smart lights, you can easily control your lamps
via an app on your smartphone or tablet.
Frequently asked questions
No, you don't need a smart bridge to use the smart lighting.
You can replace any lamp with an E27, E14, or GU10 fitting for an Alecto smart light.
The specifications of each lamp indicate which fitting the lamp is suitable for.
The lifespan of our smart lighting is around 15,000 hours.
---
Alecto Smart Lamps
With Alecto Home's smart lamps, you can easily control your lights via an app on your smartphone. Some of our models can also display multiple colors. This gives you a choice of up to 16 million colors (RGB) for every occasion in your home. With all Alecto smart lamps, it's possible to set different color temperatures, ranging from bright white to a warm ambiance.
Why Choose Smart Lamps?
Smart lighting goes beyond just illuminating your home. It offers a combination of convenience, efficiency, and personalization that traditional lighting simply can't match. By investing in smart lamps, you're investing in a smarter, safer, and more energy-efficient home.
Smart Life App
Alecto's smart lamps can be controlled with the free Smart Life app (iOS and Android). This allows you to easily create schedules and link the lamps to other smart products. The smart lamps also support voice control via Google and Alexa.
Buying Alecto Smart Lighting?
Control your lighting with your smartphone or voice. You can do that with Alecto's smart lamps. Order easily through the Alecto Home Webshop. If you place your order on a weekday before 8:00 PM, we'll ship it the same day from our warehouse!
Safety and Comfort
Increase the safety and comfort in your home with smart lighting. Set the lights to automatically turn on and off when you're not home, or use smart lamps to light your path in the dark.